▼ It's official, we are leaving Leiden▼
We are very sorry, but due to our relocation, we cannot accept
watchrepairs and restorations at the moment.
Please stay tuned for more info.

We are among other things primarily specialized in vintage mechanical wristwatches besides the sale we also preform
repairs and restorations. The repairs and restorations are carried out in our own atelier by the professional qualified
watchmaker Frank Impens with 30 years' experience in the technology of fine watchmaking.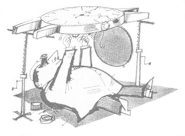 The watches are kept as original as possible, we do not alter the originality of any of our watches. Because
we regularly invest in large quantilies of new old stock Swiss quality watchparts, the majority can be repaired
without a hitch. In some circumstances a watch part might be impossible to find due to its age or rarity so in these
cases the watchmaker will need to adjust an existing similar part or make a new part out of scratch, luckily the
experienced watchmaker (nicknamed 'The Watch Guru') is very capable to perform these tasks.
These repairs can become rather time consuming as you could imagine.
Due to the large number of repairs and restorations that are all executed with the same precision
watch repairs may take up to 12 weeks, so please keep this in mind if you would like to have a
watch serviced within before a certain date.
May you have a watch in need of attention, please feel free to bring it round for a check-up. Be assured no
unnecessary repairs are carried out without the permission of the owner. We can also make you a price
estimate beforehand so that you are not confronted with any financial surprises afterwards.
To make a proper quotation on your watch-repair we would like to keep your watch for small period
of time so that the watchmaker can examine your watch in detail to determine what is necessary.
Within 2 to 3 weeks he will send you a detailed report per email. You are free to decide what you
would like us to do, you are not bounded in any way, shape, or form, it is totally up to you
if you would like us to carry out the necessary repairs or not. We give 6 months
guarantee on the 'total overhaul' of a watch movement.
Maintenance takes place exclusively with original parts only.
• Essential info •
When leaving your repair behind you will receive a receipt from us with a corresponding number-code
that corresponds with the envelope in which your watch is kept. You will need this receipt to
collect your repair after a quotation or repair, it is in your best interest to keep this receipt
safe and to bring it with you when collecting your watch in our shop.

✰ Quotations are free of charge ✰

We are regularly contacted to provide quotations without having seen the watch or by means of photos.
We are very sorry to disappoint you, but it is impossible to examine a watch and calculate a repair
without having seen the movement close up. So, to prevent inaccuracies, we will have to
disappoint you, not out of unwillingness but merely to avoid errors.
Thank you for understanding.
May you have any questions, please feel free to send us a pm.
info@tijdloos-horloges.nl